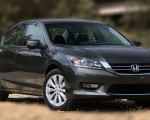 Get a Diminished Value Appraisal
Get the maximum value of what you lost in from your accident from AutoClaimDamage.com
Your car may have appear to have been repaired to mint condition after the accident, but its worth may be thousands less.  Accidents take a toll on a vehicles value, but you may be entitled to the money for that loss.  Depending on your state's laws and codes you still may have time to recover your loss in cash.
But don't expect the insurance company to help.  Some owners file a claim themselves, but most end up hiring a private company, such as AutoDamageClaim.com or ProClaimHelp.com, to assist with documenting a diminished value appraisal value and negotiating the claim.
Here are some examples of recent settlements from a diminished value appraisal:
2010 Hyundai Sonata in accident in February, 2012.  Client received $3,500 for diminished value.

2008 BMW 3 Series in accident May, 2013.  Client received $5,400 for diminished value.

2013 Ford Edge in accident August, 2013.  Client received $4,200 for diminished value.

2006 Honda Accord in accident January, 2013.  Client received $1,800 for diminished value.

The process to recover the diminished value can be complicated.  There are many factors that go into calculating the real diminished value.  There is no magic calculator or formula that works every time for every insurance company.  Professionals seasoned in assisting with these types of claims can make a big difference.
Often, submitting a diminished value appraisal to the adjuster at the insurance company is not enough.  You may find yourself waiting weeks or months for a response, and when you get the response it may even be a denial letter.  Once you are denied, you still may have a chance, but it may be even more difficult to recover.  The most ideal diminished value claim is handled by a professional from start to finish.
If you have been in an accident and your vehicle was repaired, find out today if you are entitled to recover the loss of value.  Call (888) 967-6488 for a free evaluation.